Beach Replenishment (or Nourishment) is a soft armoring technique that involves pumping sand onto an eroding shoreline to widen the existing beach. While this does not prevent erosion, it can reduce storm damage to coastal development & infrastructure.
Nourishment increases the area of beach, which allows for more dissipation of wave energy during storm events & acts as a buffer for coastal flooding.
Virginia Beach has the oldest continuous fill program on the East Coast. Nourishment is a vital component of the Virginia Beach Hurricane Protection System, widening the beach to 300 ft. in many areas. ACOE estimated the system saved the City an estimated $104 million during Hurricane Irene.
Virginia Beach includes nourishment funding in the annual budget. The Sandbridge Special Service Tax District helps fund replenishment efforts within the community. The Sandbridge Tax Incremental Financing (TIF) designated nearly $10,000,000 in FY2016-17 for sand replenishment.
Virginia Beach Ordinance Sec. 35.1-5:
"The plan is to accumulate dedicated revenue generated for use within the Sandbridge Special Service District to fund the creation and maintenance of a beach berm having an elevation approximately 6 feet above mean sea level and a width of approximately 50 feet from the nourishment line… Implementation of the plan is expected to produce a designed dry beach area of approximately 120 ft…"
Virginia localities have financed replenishment efforts with the State's Beach Nourishment Funding Program, special tax districts, and funding from their annual budget. As of 2016, Virginia Beach has proposed putting between $1.2-2.5 million into the restoration fund annually for the next six years.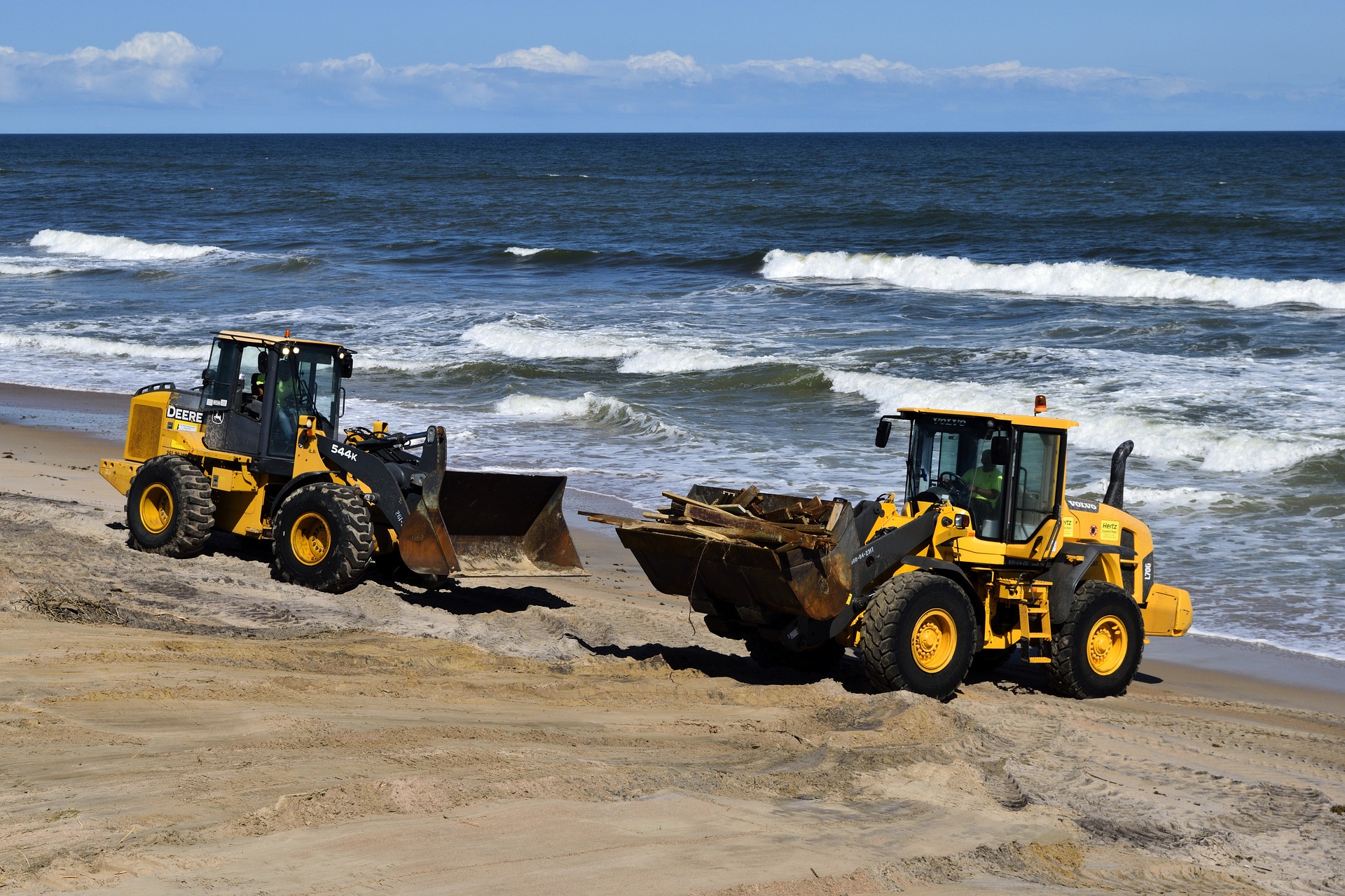 Mega-nourishment projects may require less maintenance and have ecological benefits compared to conventional replenishment.
In one locality, widening the beach resulted in some properties moving from an A zone to an X zone, providing insurance savings to homeowners.
Protects coastal infrastructure & development from beach erosion and storm surge without the implementation of hard armoring
Programs are already established in many coastal localities
Can lower flood insurance premiums for shoreline homes
Expensive band-aid solution that requires re-nourishment periodically
Ecological concerns (marine life and shorebird nesting may be impacted)
Encourages development in high-hazard areas
Nourished beaches can erode 2-3x faster than natural beaches
Beach nourishment does not prevent erosion, and each project has a finite lifespan. The economic cost of nourishment projects is an important consideration. An assessment of beach nourishment requirements estimated that between $201-$798 million of sand replenishment will be needed to protect Virginia's coast from 50-200 cm of SLR by 2100.
Localities can use beach nourishment to:
Expand an existing beach
Increase recreational areas
Protect development behind an eroding beach
Beach nourishment can serve as a natural SWM measure. For example, constructed dunes can reduce overland flow and promote infiltration from impervious surfaces abutting the beach.
The City of Norfolk's shoreline nourishment of Ocean View beach, in addtion to abating a chronic shoreline erosion problem, was designed to provide a sufficient dune and berm for storm protection.
Code of Virginia, § 10.1-704:
Prioritizes the use of dredged material for beach nourishment. Considers beaches as the priority disposal sites of dredged material suitable for beach nourishment.
Code of Virginia, § 10.1-709:
Public Beach Maintenance and Development Fund shall be established to provide grants to local governments covering up to one-half of the costs of erosion abatement measures
Code of Virginia, § 15.2-2400:
Creation of service districts.
Basco, D., Colburn, C. (2006). The State of the Region's Beaches (Hampton Roads, Virginia. The Regional Studies Institute at Old Dominion University.
Leatherman, S., (1989). National Assessment of Beach Nourishment Requirements- Associated With Accelerated Sea Level Rise. Laboratory for Coastal Research, University of Maryland.
Silton, A., & Grannis, J. (2010). Stemming the Tide: How Local Governments Can Manage Rising Flood Risks . Georgetown Climate Center