Freeboard is the elevation of a building's lowest floor to a height above the minimum base flood elevation (BFE) during the initial construction process. Typical requirements call for an additional 1-3 ft. above BFE. A freeboard mandate can be added in a locality's ordinances, with height requirements based on zone or level of risk. A number of localities in coastal Virginia already impose freeboard provisions.
Adding freeboard or installing flood-resistant foundation provides significant protection against flood damages caused by SLR. Stringent freeboard requirements ensure that new development can accommodate storm surge both in the present & in future conditions. Although an important interim adaptation effort, because of its comparatively low political cost, freeboard is a short term fix to a long term problem; we consider it a long term Band-Aid adaptation solution & strategy.
Freeboard outside the floodplain: Hampton requires Standards for Other Flood Areas
The following provisions shall apply in areas identified as X (Shaded) or X500 on the city's FIRM: (a)All new construction as of September 10, 2014 shall have the lowest floor, including basement, elevated or flood-proofed to 1.5 feet above the highest grade immediately adjacent to the structure.
Adopting freeboard in rural locality + low political will: Lancaster County regulates to lowest horizontal structure member, rather than lowest floor.
Buildings and structures within this zone shall have the lowest horizontal structural member or ductwork of the lowest floor… elevated to or above the base flood elevation plus 1.5 ft of freeboard
Sample freeboard language: Buildings and structures within this zone shall have the lowest floor elevated to or above the base flood elevation plus two feet of freeboard (Accomack County, VA)
A number of tidewater localities have already enacted freeboard requirements shown here.
Portsmouth Ordinance: Sec. 14.1-11
"The following provisions shall apply for the VE or V Zones (Coastal High Hazard areas). a. All new construction and substantial improvements in Zones V and VE (V if no BFE is available) shall be elevated on pilings or columns so that: 1) The bottom of the lowest horizontal structural member of the lowest floor (including all HVAC and duct work but excluding the pilings or columns) is elevated above the base flood level by at least three feet; and 2) The pile or column foundation and structure attached thereto is anchored to resist flotation, collapse, and lateral movement due to the effects of wind and water loads acting simultaneously on all building components. Wind and water loading values shall each have a one percent chance of being equaled or exceeded in any given year"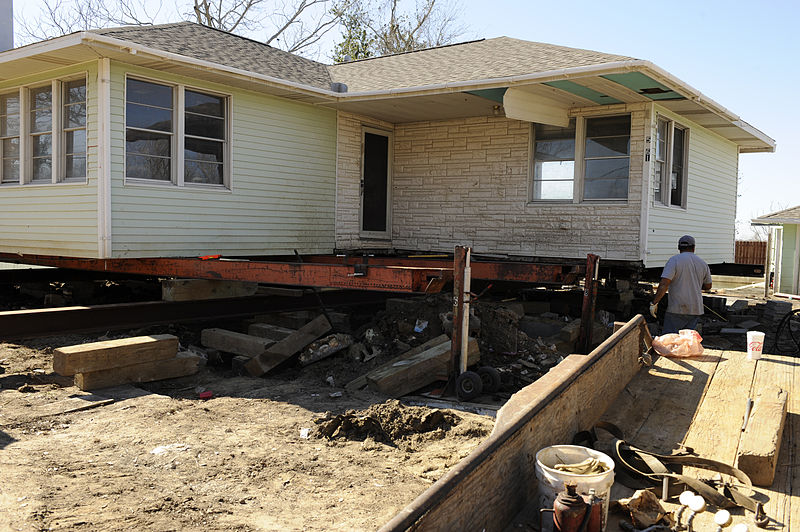 "Post-storm observations and calculations demonstrate that incorporation of Freeboard is one of the most effective means of reducing property losses"
One locality has an informal freeboard policy for city financed projects, ranging between 1.5-3 ft., depending on the life of the project. The Hampton Roads Planning District Commission passed a resolution in 2015 encouraging local governments to consider adopting higher freeboard requirements.
Protects existing development = effective in urban localities with a high degree of build-out
Reduces flood risk to property owners
Reductions in flood insurance premiums can subsidize the cost of structure elevation
May face resistance from the building community due to increased construction costs
May necessitate the eventual elevation of infrastructure, a costly "band-aid" solution
Freeboard can create inconsistency with utility heights, increasing the complexity of service
May be an issue in localities with height restrictions (such as Portsmouth)
Freeboard is not mandatory by NFIP standards
Freeboard requirements are typically implemented through a locality's building code. Freeboard requirements can be increased in an overlay zone where development is especially vulnerable to recurrent flooding, or in the floodplain ordinance. To enact a more comprehensive standard, a municipality may consider mandating higher freeboard for public utilities & infrastructure. Additionally, many communities have begun adopting regulations requiring that foundations in the A zone comply with the more stringent V zone requirements.
Ex. Gloucester, VA mandate V zone building standards in the Coastal A zone.
The National Flood Insurance Program requires structures built in V zones to be elevated so that the bottom of the lowest horizontal structure supporting the lowest floor is at or above BFE. In A zones, the top surface of the lowest flood must be constructed at or above BFE. The 2006 Evaluation of the NFIP's Building Standards found that (during initial construction) the incremental costs of replacing minimally compliant A zone foundations with more resilient pier or pile foundations was less than 5-10% of the total construction cost. Furthermore, the cost of adding 4 feet of freeboard in a pile foundation was minimal (1-2% of total building cost).
Va. Code § 15.2-2280:
Zoning ordinances generally
Va. Code §36-98:
Code shall not supersede proffered conditions accepted as a part of a rezoning application… special exceptions, variances, clustering of single-family homes & preservation of open space development...land use requirements in historic districts… or local floodplain regulations adopted as a condition of participation in the National Flood Insurance Program.
Virginia Construction Code Appendix G1001.6:
Mechanical, plumbing & electrical systems must be elevated or flood-proofed to BFE or Design Flood Elevation within the SFHA.
HRPDC: Adopted a resolution encouraging localities to adopt new or higher freeboard requirements.
Jarbeau, S. H., & Stiff, M. C. (2015). Flood Protection Pay-Offs: A Local Government Guide to the Community Rating System. Wetlands Watch.
Jones, C., Coulbourne, W., Marshall, J., & Rogers , S. (2006). Evaluation of the National Flood Insurance Program's Building Standards. American Institutes for Research.
Schechtman, J. & Brady, M. Cost-Efficient Climate Change Adaptation in North America. Rutgers University.
Silton, A., & Grannis, J. (2010). Stemming the Tide: How Local Governments Can Manage Rising Flood Risks . Georgetown Climate Center.
VA APA. (2014). Managing Growth and Development in Virginia: A Review of the Tools Available to Localities. Virginia Chapter of the American Planning Association .
Virginia Department of Conservation & Recreation. (2014). Guidance for Local Floodplain Ordinances in VA. Va. Department of Conservation and Recreation, Dam Safety and Floodplain Program