The US Department of Transportation requires both states & regions to complete long range transportation plans to receive federal transportation funds. Long range transportation planning is also a required element of a locality's Comp. Plan.
SLR directly impacts infrastructure in the Tidewater region, & many transportation segments are already experiencing regular inundation. By considering SLR in transportation planning, localities can site infrastructure away from flood-prone areas & prioritize adaptive retrofits in the existing network.
Transportation planning is most effective if incorporated in multiple planning documents: Poquoson's development standards require a 4.5 ft. elevation standard above mean sea level for new roads (most nuisance flooding occurs below this height). All utilities below the 100-year flood elevation must have watertight manhole lids & the city's pump stations are all sited above 100-year flood elevation.
How to begin the conversation about abandoning public maintenance of perpetually flooded roads: Accomack-Northampton Planning District Commission tackled the issue by assigning colors to SLR scenarios (1-6 feet) & highlighting those streets on maps that would become impassable with the coordinating scenario color. Resulting maps can dictate future transportation spending, infrastructure, & hazard mitigation planning.
Texas: Establishing protocol for closing/relocating public roads post storms: Sample plan language
Following major damage to or destruction of existing roads following storms or hurricanes, the County will evaluate the condition of the road and determine whether the existing road will be permanently closed or repaired or relocated by the County or a future permittee. Galveston County Dune Protection and Beach Access Plan (2006)
Florida: Prioritizing roadway improvements within hurricane evacuation routes for increased capacity & response time: Broward County Long Range Transportation Plan (2035)
Florida: Model ordinance for abandoning roads: full text & guidance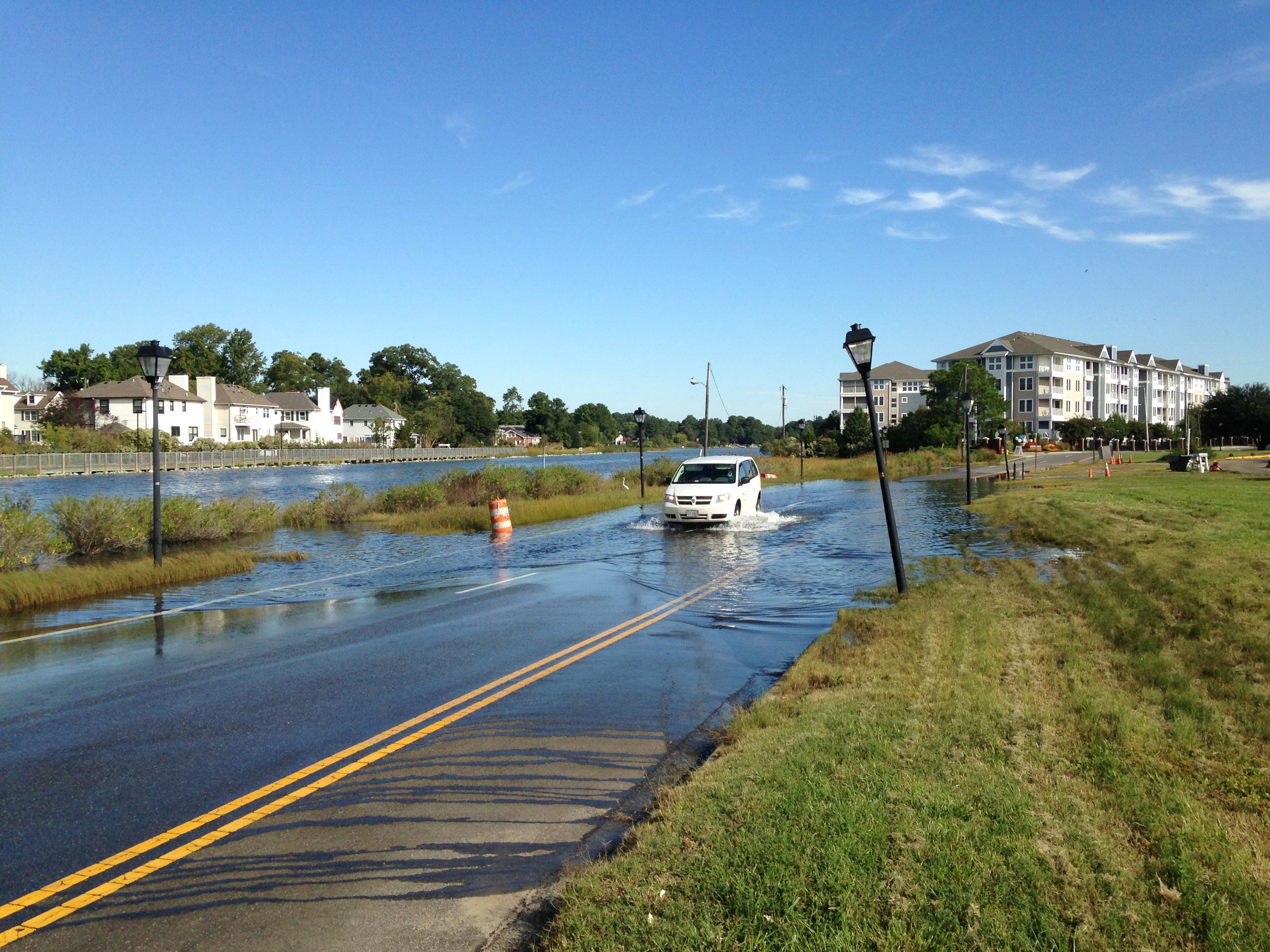 In Coastal Virginia, more than 1,500 miles of roadway could be inundated with 1.5 feet of sea level rise and a 3 foot storm surge
VIMS 2013 Recurrent Flooding Study
DOT offers approximately $500 million annually for Transportation Investment Generating Economic Recovery grants (TIGER)- resiliency is an expressed factor in the selection process.
FHA announced in a 2012 memo that federal cost sharing would be made available for "Activities to plan, design, and construct highways to adapt to current and future climate change."
A Transportation Improvement District can be used to help fund localized infrastructure improvements. Ex: grouping commercial owners in a vulnerable area can be used to fund infrastructure - direct benefit to them.
Localities can collect fees for transportation improvements (Code of Virginia § 15.2-2317.2327), but the process is cumbersome & intensive. Stafford County began using road impact fees in 2003.
Localities noted a lack of guidance from VDOT concerning SLR adaptation. In rural localities, VDOT is the largest stakeholder capable of adapting infrastructure to sea level rise, making them a critical partner at the state and local level. The current VDOT long-range planning document, VTRANS2035, references climate change but proposes no actions to address risks; the consultant report stated sea level rise is "a major concern for coastal Virginia, particularly in the highly populated Hampton Roads region, as existing hazards such as storm surge, coastal flooding and erosion will become more severe because of sea level rise."
There is also a potential legal issue, namely, what is the liability for a locality to reasonably maintain public roads? In Florida, Jordan vs. St. Johns County held that a government entity has a duty to reasonably maintain public roads, & that "government inaction—In the face of an affirmative duty to act—can support a claim of inverse condemnation."
Considering SLR when planning public infrastructure reduces the need for expensive retrofits in the future

LRTP planning process is an opportunity for public awareness & increased awareness of SLR adaptation
No mandate for state/regional long-range transportation plans to consider climate change

Retrofitting infrastructure for SLR adaptation can be extremely expensive
State & regional long-range transportation plans must be updated every five years. Transportation elements of locality Comp. Plans must be reviewed by VDOT prior to adoption (Code of Virginia § 15.2-2222.1). The 2008 Virginia Commission on Climate Change recommended that VDOT work with regional & local governments to synchronize state transportation plans & local land use plans on the same five-year schedules.
Long-Range Transportation Plans should consider climate change when determining the useful life of infrastructure within a planning horizon. Life-cycle cost planning should be used to consider the long-term risks of SLR to the transportation system (increased maintenance, inundated segments, future elevation retrofits).
Localities can use transportation planning to:
Develop a critical infrastructure list that considers SLR projections
Identify emergency evacuation routes & plan future improvements outside of high vulnerability areas
Address flooding and meet water quality goals by integrating stormwater projects (retrofits and green streets) into road improvement projects
Incorporate greenways and trail systems into a multimodal transportation system
Prioritize expensive elevation retrofits on arterial streets that act as emergency evacuation routes
Undertake cost-efficient adaptation efforts (studies, pilot projects, etc.)
Code of Virginia, § 15.2-2223.1
Localities shall develop a transportation plan as part of the Comp. plan
Code of Virginia, § 15.2-2230.1
Localities are authorized to study the cost of public facilities needed to implement the Comp. plan
23 CFR § 450.206
Requires states to complete long range transportation plans to receive federal funding.
23 CFR § 450.306
Requires regions to complete long range transportation plans to receive federal funding.
The County's Cook/Falcon Roads drainage improvement project is a VDOT Revenue Share project. Phase I improved drainage at the intersection of Old York Hampton Highway and Cook Road and along Falcon Road by piping and ditch grading. This project also includes constructing wetlands behind York High School to decrease the flooding/improve water quality of residential structures and the school. The constructed wetlands were designed to manage a 100-yr storm event. This project is listed as the Wormley Creek Headwaters project in the CIP and included in the board adopted Utilities Strategic Capital Plan.
Federal Highway Administration (FHWA) Guidelines (2008) & Model Language for incorporating climate change into transportation planning
USDOT: Vulnerability Assessment Scoring Tool
Model ordinance (Rupert, Fergus, & Stewart) for managing environmentally compromised road segments.
VDOT guidebook for developing a regional LRPT. VDOT is also required to provide technical assistance (upon request) to localities undertaking transportation planning.
DRPT. (2013). Virginia Department of Rail and Public Transportation Multimodal System Design Guidelines and Guide for Preparing a Multimodal System Plan.
FEMA. (2015). Plan Integration: Linking Local Planning Efforts.
Gallivan, Ang-Olson, & Turchetta. Integrating Climate Change into State and Regional Transportation Plans (2009). Transportation Research Record: Journal of the Transportation Research Board, No. 2119
HRPDC. (2012). Climate Change in Hampton Roads: Phase III Sea Level Rise in Hampton Roads, Virginia. Hampton Roads Planning District Commission.
HRTPO. (2013). Hampton Roads Military Transportation Needs Study: Roadways Serving the Military and Sea Level Rise/Storm Surge. Hampton Roads Transportation Planning Organization.
Schechtman, J., Brady, M. Cost-Efficient Climate Change Adaptation in the North Atlantic. Rutgers University.
VA APA. (2014). Managing Growth and Development in Virginia: A Review of the Tools Available to Localities. Virginia Chapter of the American Planning Association.