Non-MS4 Stormwater Management
In localities that are not regulated by an MS4 permit (non-MS4) stormwater may or may not be managed, treated or regulated by the locality. Much of the stormwater runoff emanating from these typically rural communities is non-point source pollution – with runoff flowing into and moving through an open ditch system or directly into waterways. Non-MS4 community options and authorities to reduce and treat stormwater runoff to meet total maximum daily loads (TMDLs) water quality goals are limited because most of the land is privately own and portions of the ditches are either privately owned or managed/owned by Virginia Department of Transportation (VDOT). Ditches that run parallel to public right of ways are maintained by VDOT, whereas, ownership & maintenance responsibilities for ditches that drain properties outside the right of way, yet discharge into the VDOT ditches are uncertain and contentious. Throughout Virginia, stormwater runoff from new development and redeveloped is regulated in accordance with the Virginia Stormwater Management Program (VSMP). Non-MS4 localities may choose to administer the VSMP ("opt-in") or "opt-out" & designate the VA Department of Environmental Quality (DEQ) as the VSMP administrator. Non-MS4's that opt-in assume the added burden and expense of administering the VSMP. Those who choose to opt-out are still required to regulate erosion and sediment control and land disturbances in accordance with the Chesapeake Bay Preservation Act (CBPA).
Increased storm events, groundwater infiltration into drainage ditches that reduce ditch capacity to handle extreme stormwater events, & increased tidal influx as sea levels rise will add strain on an already stressed rural stormwater ditch system. Having several different authorities responsible for stormwater program administration & compliance & a lack of coordination among the different authorities creates confusion. Confusion & ditch failure is further compounded by the ditch ownership & maintenance responsibility issues, as improperly maintained ditches contribute to local flooding.
Localities can use their zoning ordinances, policies, & land-use approval process to encourage environmental or better site design & planning techniques for new development & redevelopment that reduces impervious surfaces & preserves natural open space, thereby reducing stormwater.
Accomack County: allows clustering for development within the Agricultural, Rural Residential, and Village Residential Districts. This form of development clusters buildings on smaller lots together to reduce impervious surfaces & preserve meaningful open space, thus reducing landscape fragmentation & minimizing sprawl. Without the clustering option, the minimum lot size in Accomack's Rural Residential District is 3 acres, with no maximum lot size. The clustering option reduces the minimum lot size to 20,000 sq. ft, with a maximum size of 2 acres. When developed using an environmental site design approach, a cluster development can preserve natural resources in open space while also benefiting the developer with density bonuses. Because Accomack County has a green infrastructure plan that has identified "meaningful" open space to protect, the locality can request that any new development proposals comply with the conservation & development recommendations of the green infrastructure plan.
Two localities on Maryland's Eastern Shore, Talbot & Wicomico Counties, have been working to convert portions of their drainage ditch systems into stormwater BMPs. Talbot County installed and is testing a two-stage drainage ditch through a partnership between local government, the Chesapeake Bay Foundation, the Nature Conservancy, the Mid-Shore Riverkeeper Conservancy & Environmental Concern Inc. The BMP, which combines a wet swale and constructed wetlands, has the potential to remove an estimated 36-40 lbs of nitrogen annually. The cost of these ditch retrofits are low as long as right-of-ways are government owned (no need to purchase easement from property owner).
Kent County Maryland Code §46.1: Creation, composition of the Public Drainage Association
"The Kent County Public Drainage Association is hereby created. It shall have five (5) members appointed by the County Commissioners... All members of the Association shall be residents, property owners and registered voters of Kent County. §46-4 Powers and duties. It shall be the duty of the Association to recommend… the location or locations to establish ditches, drains or canals and to cause to be constructed straightened, widened or deepened any ditch, drain or watercourse for the purpose of draining wet, swampy or overflowed lands or lands subject to overflow…"
There has been ambiguity as to whether a ditch that rarely dries out is considered a jurisdictional wetland. Following the Rapanos ruling, the EPA and the USACE issued a memo clarifying their jurisdiction through the Clean Water Act, stating that, "Upland ditches (including roadside ditches) that do not carry relatively permanent flow generally do not fall under the jurisdiction of the Corps"
There is confusion among non-MS4 localities about whether or not to "opt-in" or "opt-out" as a designated VSMP administrator. The VSMP is ultimately responsible for verification that all practices are properly designed, installed & maintained long-term. Non-MS4 communities tend to be rural and lack sufficient funding, staff capacity, and stormwater expertise to administer the VSMP. Many of these localities are concerned about assuming the financial liability of the VSMP maintenance requirements for stormwater practices installed on private property. Those localities that opt out are faced with confusing circumstances of coordinating land-use development decisions with the DEQ stormwater management plan approval process.
Rural localities have less impervious surface & more open space for stormwater infiltration, and implementing environmental site design and other non-structural stormwater practices
Opportunities to address unmanaged stormwater within the existing right-of-way
Opportunities to address unmanaged stormwater & water quality issues on private property by partnering with soil and water conservation districts & their voluntary stormwater retrofit cost-share programs.
Planned infrastructure improvements can be coordinated with stormwater work to increase efficiency
Rural ditches may offer opportunities to correct drainage problems and meet TMDLs. For example, constructed wetlands and vegetative wet swales can provide high nitrogen reductions.
Most of the land in rural areas is in private ownership, making it more difficult for localities to retrofit existing properties with new stormwater practices.
Non-MS4 localities have different challenges than their MS4 counterparts, including roadside/ditch erosion & failing culverts
Sediment contributions from gravel roads in rural localities can be significant
Smaller localities often face increased financial strain, limiting opportunities to implement new stormwater management programs
Traditional zoning ordinances can create disincentives for the implementation of LID- including wide roads & oversized parking requirements, even in low-density areas.
Maintenance is a major barrier to the effectiveness of roadside ditches. Both localities & VDOT are unlikely to want additional responsibility for maintaining ditches out of the right-of-way
Even with regular maintenance, groundwater inflow & tidal influx into existing drainage ditches has reduced the capacity of the ditch system to handle excess stormwater
Poorly maintained roadside ditches result in inadequate stormwater drainage, but the creation of a Roadside Drainage Authority could help repair the system and reduce flooding events, while helping to meet nutrient reduction requirements in the Chesapeake Bay TMDL and Virginia's Watershed Implementation Plan.
Example: In Maryland, Public Drainage Associations have been established with the authority to locate, establish, and maintain ditches. There are over 100 active Public Drainage Associations on Maryland's Eastern Shore, which maintain approximately 820 miles of ditches.
Delaware Department of Natural Resources and Environmental Control (DNREC) has established a program to convert rural ditches and non-productive farmland into functioning streams and wetlands for water quality and habitat restoration. This program might serve as a model for rural Virginia localities seeking to meet water quality goals and as a way to work with agricultural property owners whose lands are converting to tidal wetlands and no longer farmable.
Credit for small scale flood control projects that protect insurable buildings, or storage facilities with natural buffers or wetlands.
Natural buffers (as conserved open space or as restored riparian buffers), constructed wetlands, and living shorelines are stormwater BMPs that get TMDL credit. Protection of natural buffers and wetlands are Environmental Site Design techniques applied through the Virginia Runoff Reduction method.
Localities in Virginia receive a Uniform Minimum CRS Credit of 60 points before impact adjustments for having and enforcing ESC regulations governing all land-disturbing activities of 1 acre or more. In localities subject to the Chesapeake Bay Preservation Act, regulations govern land-disturbing activities between 2,500 square feet and 1 acre. Some CRS credit is lost for exemption associated with the development of single family residences less than 1 acre. Recommendation: Where reasonable, localities should create stricter land disturbing regulations than the state to earn higher credit, reduce flooding, and improve water quality.
Compliance with VSMP regulations results in Uniform Minimum CRS Credits of 14 points (before impact adjustment) for the legislative requirements Code of Va. § 62.1- 44.15:28, 9 VAC 25-870-66B,C; and 9 VAC 25-870-98B. Regulate to less frequent storms (e.g. the 25-, 50-, or 100-year-storm) for higher credit and/or incorporate volume control with detention (or require retention) in ordinances to receive additional credit.
Uniform Minimum CRS Credits of 20 points (maximum credit) for legislative requirements (9 VAC 25-870-95) for MS4 localities and localities that opt-in as VSMP Authorities (9VAC25-870-112). Localities are also required to have an inspection and maintenance program for all BMPs reported and tracked for TMDL credits
Credit for regulations or policies requiring the annual maintenance of storage basins for stormwater management. Most localities likely already meet the criteria for this activity based on the requirements of the VSMP. In order to earn the credit, ensure that the prerequisites are met (mapping, written procedures, annual inspections, etc.).
Credit for prohibiting development in areas that are preserved or restored in an effort to manage stormwater might be achieved through environmental site design, land-use change or other non-structural BMPs that preserve or restore and protect areas for stormwater treatment and require a maintenance agreement that conveys with the property (e.g. sheetflow to conserved open space, reforestation, riparian buffer preservation or restoration).
Credit for raising public awareness of stormwater issues
Locality regulations that require regular and emergency maintenance of watershed channel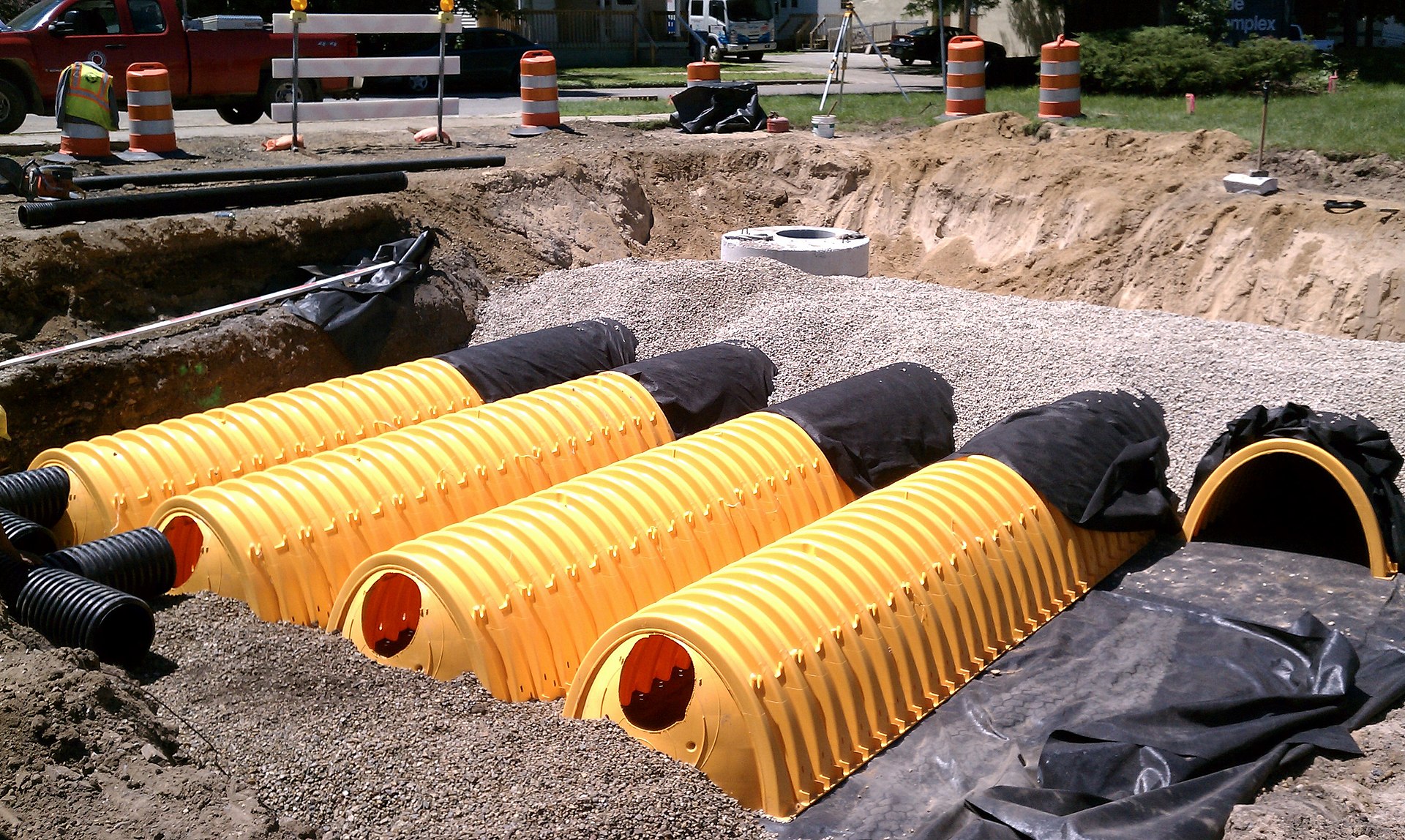 James City County, Virginia
To receive CRS credit under Program for Public Information (PPI) James City County has a Stormwater Advisory Committee. This citizen board reviews stormwater and flooding problem areas and makes recommendations for actions to Board of Supervisors and the Stormwater Division.
In 2016, the Virginia General Assembly passed several major pieces of legislation concerning stormwater. The Virginia Erosion & Stormwater Management Act (effective July 1, 2017) consolidates stormwater management programs with erosion and sediment control. All MS4 and VSMP opt-in localities are required adopt and administer a Virginia Erosion and Stormwater Management Program (VESMP). All non-MS4 and VSMP "opt-out"localities are faced with choosing one of three options: (1) "Opt-in" as a VESMP authority; (2) "Opt-in" as a VESMP authority with technical reviews of stormwater plans provided by DEQ; (3)"Opt-out"as a VSMP administrator and adopt and administer a VESMP for projects less than an acre but greater than 10,000 sq. ft. (or greater than 2,400 sq. ft. for localities subject to the CBPA).
Localities have expressed concern that the legislation does not address the "donut hole" problem affecting the ability of small, rural localities to opt out of managing their stormwater program.
For more information on the "Donut Hole" issue, view An Analysis of the 2016 Stormwater Bill from the Virginia Coastal Policy Center.
Code of Virginia, § 15.2-5102:
Localities are authorized to create a water, sewer, or stormwater control authority
Code of Virginia § 15.2-2114:
Localities can establish a system of service charges to support the local SWM program
Code of Virginia, § 62.1-44.15:33:
Localities are authorized to adopt more stringent stormwater management ordinances
Code of Virginia, § 62.1-44.15:34
Construction General Permit required for the development of single family lots with 1 acre or greater of land disturbance
9 VAC 25-870-99:
Authorizes the creation of a regional stormwater management plan
EPA. (2010). Green Infrastructure Case Studies: Municipal Policies for Managing Stormwater with Green Infrastructure . Environmental Protection Agency, Office of Wetlands, Oceans and Watersheds
MPPDC. (2015). Drainage & Roadside Ditching Authority. Middle Peninsula Planning District Commission.
JRA & WEG. (2013). Integrated and Enhanced Stormwater Management & Erosion and Sediment Control. James River Association, Williamsburg Environmental Group.
Browning M., Burke D., Dunn J, & Barthelmeh, T., "Converting Drainage Ditches and Non productive Farmland into Functioning Streams and Wetlands: A Model for Improving Water Quality and Wildlife Habitat in Delaware". In A Sustainable Chesapeake Better Models For Conservation Chapter 2 Stream Restoration. The Conservation Fund.
Evan, G. James E., & Shupp S.A. (2017) "Healthy Watersheds Forest Retention Project. Phases 1 & 2, Final Report". Virginia Department of Forestry, Rappahannock River Basin Commission, PA Bureau of Forestry.