Soft Armoring involves the creation or restoration of a natural shoreline system using nature-based shoreline management techniques. Living Shorelines mimic natural functions to provide erosion control, but unlike their hard-armored counterparts, also improve water quality, enhance shoreline habitat, & help maintain natural coastal processes.
The shoreline ecosystem including dunes, beaches, coastal wetlands, & riparian buffers provide critical protection against coastal flooding & storm surge. Using soft-armoring for shoreline management allows the natural shoreline to adapt- to migrate upland as sea levels rise and provide valuable ecosystem services.
City of Norfolk: examples of living shorelines on public property that can be used as educational sites - Larchmont Library, the Virginia Zoo, & the Hermitage Museum & Gardens. The Larchmont Library Wetland Restoration, the City's first living shoreline (1997) resulted in the restoration of 300 linear ft. of shoreline & has survived a number of powerful storm events with little erosion. Some projects were designed to accommodate and adapt as sea levels rise.
California: Annual Adaptation Tax - San Francisco's Bay Area voted to require a $12 annual tax on every parcel, projecting to raise $25 million annually. These funds will begin restoring >35,000 acres of publicly owned wetlands.
Virginia Shoreline Resiliency Fund: Revolving loan program for shoreline protection. Although it is as of yet unfunded, the program may one day be a useful tool in living shoreline implementation.
FEMA Hazard Mitigation Assistance (HMA) Programs: new 'Climate Resilient Mitigation Activities' eligible for funding: Aquifer Storage and Recovery, Floodplain and Stream Restoration (FSR), Flood Diversion and Storage (FDS), & Green Infrastructure Methods. See Wetlands Watch primer for examples & info.
A Service District can be enacted within a locality to fund beach & shoreline management.
Ex. Virginia Beach Special Service District: The Sandbridge Special Service District is created for the purpose of providing financing for the local share of any beach and shoreline management and restoration project for the construction, maintenance, replenishment and restoration of the beach and shoreline on the Atlantic Ocean within the service district
VA Riparian Buffer Tax Credit: Provides incentives for property owners who keep riparian buffers forested for a minimum of 15 years.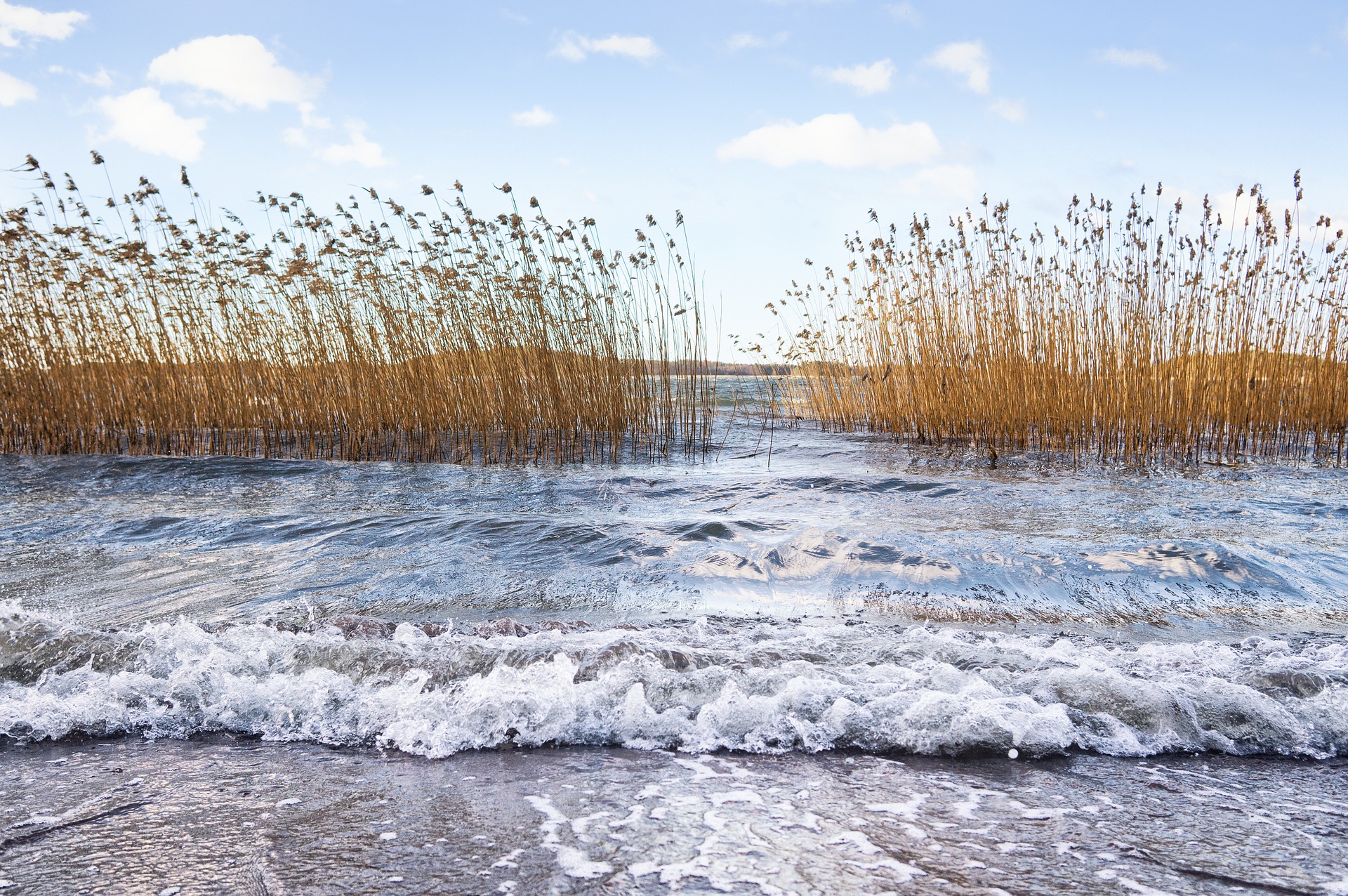 A review of 15 studies found overwhelming support that mangrove & saltmarsh vegetation protects against erosion & storm surge. Even small wetlands can provide substantial protection.
Living shoreline projects undertaken by ACOE can be significantly more expensive than those undertaken by localities/NPOs.
Coastal property owners tend to be skeptical regarding the efficacy of living shorelines, as they are most familiar with traditional shoreline protection such as riprap. Localities noted that there is a shortage of properly trained contractors with experience installing & maintaining living shorelines.
Solution: the Chesapeake Bay Landscape Professional Certification Program offers credentialing to ensure landscaping professionals are thoroughly trained in the design, installation, & maintenance of green infrastructure. VIMS CCRM has been hosting living shoreline design/construction workshops for contractors, consultants, and others interested in permitting, proper design and construction standards in Virginia. Additionally, Restore America's Estuaries has created the Living Shorelines Academy.
Living shorelines & shoreline buffers can be exempted from local property taxes
Can be more cost-efficient than hard-armoring techniques, which can require expensive maintenance & repairs
Ecological, recreational, & aesthetic benefits
Mitigates some of the negatives of hard-armoring, including downstream erosion.
Can allow a natural migration of shorelines in the face of sea level rise
Living shorelines and shoreline buffers are approved stormwater best management practices and eligible for nutrient and/or sediment reduction to meet the TMDLs
Construction costs vary substantially based on local conditions
Increased complexity with living shorelines projects (requires site-specific design)
Periodic inspection & maintenance required
Not suitable for areas with high-energy wave action
High-percentage of privately owned shoreline = difficult to mandate adaptive action
Living shorelines are the preferred (not mandatory) method of shoreline management in Virginia, but in practice, local Wetlands Boards often accept riprap. Maryland Living Shoreline Protection Act of 2008 requires non-structural shoreline stabilization, except when demonstrated unfeasible, or in areas mapped by the Department of the Environment as appropriate for structural stabilization.
No construction that has the potential for encroachment on or damage to primary sand dunes or beaches can occur in VA without review & approval by the VMRC & a local Wetland Board. Permitting along the shoreline is complex, with multiple stakeholders, but VMRC developed a general permit for living shorelines streamline the process.
Localities can:
Establish natural shorelines in areas of high erosion
Encourage/ incentivize property owners to replace unnecessary bulkheads with living shorelines
Discourage/prohibit the creation of new hard structures
Enhance/maintain riparian buffers & tidal wetlands
Incentivize preservation by exempting wetlands/shoreline buffers from property taxes.

Va. Code §58.1-3666: Wetlands… and riparian buffers may, by ordinance, be exempted from local taxation
Most living shorelines are not wide enough to count as open space. More likely to receive credit: living shorelines that protect against storm levels ranging from 10 to 500-year storms, or if they are a locality's required method of shoreline stabilization (preferred method is not sufficient).
1: Up to 120 points (Activity 420, Natural Shoreline Protection, Manual pg. 420-28)
Credit for localities that have adopted regulations prohibiting armoring on private or public lands. A locality must have adopted regulations that prohibit armoring, channel alterations, dredging, filling, grubbing, removal of vegetation, or any beach alteration on private and/or public lands.
Chesapeake Bay Preservation Areas can earn credit with a policy to issue no permits in these areas for the activities prohibited by the CRS in this activity
Living shorelines are a Chesapeake Bay Program approved best management practice. Restoration of riparian buffers at least 35 ft deep are BMPs eligible for TMDL credit. Sheetflow to conserved open space or vegetated filter strips are approved BMPs as well. All would serve to provide natural flood protection along the shoreline.
3: Up to 1,600 points (Activity 530, Flood Protection: Retrofitted Buildings, Manual pg. 530-2)
Credit for installation of individual property barriers including levees, berms, & floodwalls - the living shoreline must protect against the 25-year flood
The Virginia Soil and Water Conservation District's Virginia Conservation Assistance Program (VCAP) has a cost-share for implementation of Living Shoreline projects. Some elevation can be built into the slope of the land and the vegetated buffer landward of the project that would protect the property against the 25-year flood. Several Living Shoreline projects in the City of Norfolk were designed to accomodate 1.5 ft of sea level rise (this may currently protect against a 25-year flood.
Va. Code §15.2-2223.2:
Requires local governments to include a Comprehensive Coastal Resource Management Plan to their next Comp. plan revision
Va. Code §28.2-104.1:
Authorizes the VMRC to establish & implement a general permit authorizing & preferring the use of living shorelines
Va. Code § 28.2-1100:
VIMS shall develop CRM guidance for local governments to foster sustainability of shoreline resources
Va. Code §. 62.1-229.5:
Expands the Virginia Water Facilities Revolving Fund to authorize loans for establishing living shorelines.
Clean Water Act, Section 404, River and Harbors Act Sec. 10:
Grants ACOE authority for essentially all ground-disturbing activities in navigable waters & adjacent wetlands.
Adams, S., Crowley, M., Forinash, C., & McKay, H. (2016). Regional Governance for Climate Action . Institute for Sustainable Communities.
Comprehensive Coastal Resource Management Guidance. Virginia Institute of Marine Science
City of Hampton. (2014). City of Hampton Tidal Floodplain Study and Protection Plan.
Gedan, Kirwin, Wolanski, Barbier, Silliman. (2011). The Present and Future Role of Coastal Wetland Vegetation in Protecting Shorelines: Answering Recent Challenges to the Paradigm. Climate Change, 106. 7-29.
Georgetown Climate Center. (2011). Soft-Armoring and the Corps: The Impact of Army Corps of Engineers Permitting on State Coastal Protection Policies. Georgetown
Grannis, J. (2011). Adaptation Tool Kit: Sea-Level Rise and Coastal Land Use. Georgetown Climate Center.
Mitchell, M., Hershner, C., Herman, J., Schatt, D., & Eggington , E. (2013). Recurrent Flooding Study For Tidewater Virginia . Virginia Institute of Marine Science.
USACE. (2015). "North Atlantic Coast Comprehensive Study Report".